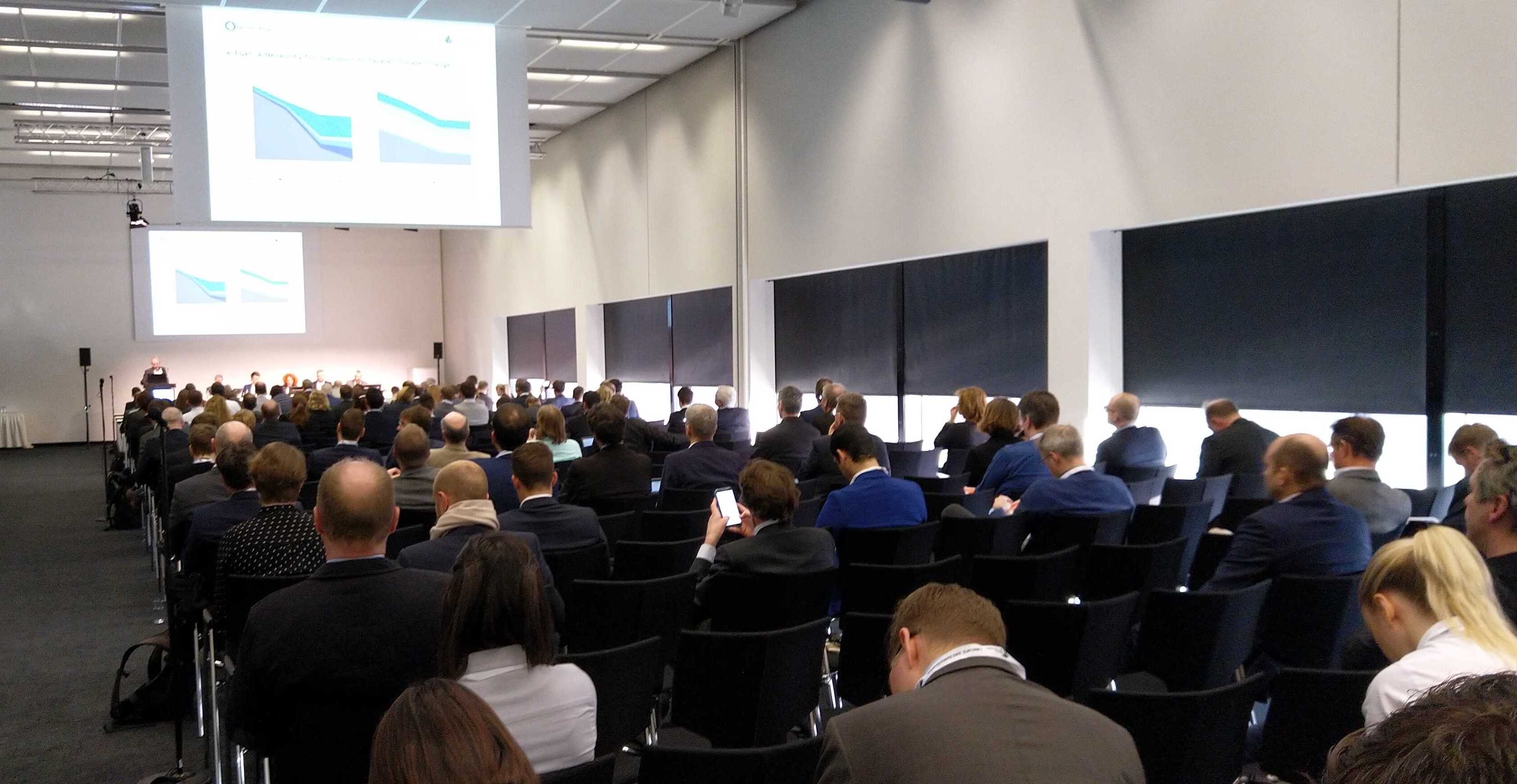 International Conference on Renewable Mobility: Renewable Mobility Amidst the Conflicting Priorities of Climate Protection, Economic Viability and User Acceptance
Speakers from the German Bioenergy Association, the Federal Ministry of Transport and Digital Infrastructure, the international mineral oil industry, the German automotive industry and the scientific community presented their concepts, strategies and research results for renewable mobility in the future to over 550 conference participants at the launch of the conference on 21st January 2019 in CityCube Berlin.
In his opening speech, Artur Auernhammer, MP and Chairman of the Board of the German Bioenergy Association (BBE), emphasised that biofuels will remain indispensable for designing and extending a sustainable transport and climate protection policy in coming decades. The BBE Chairman explained the core demands: "The share of renewable energies in the transport sector should therefore be increased from 10 per cent in 2020 to 12 per cent in 2022, 14 per cent in 2024, 16 per cent in 2026, 18 per cent in 2028 and 20 per cent in 2030. In keeping with this, a higher greenhouse gas reduction quota must be stipulated promptly in the Federal Immission Control Act. In concrete terms, the biofuel industry advocates gradually augmenting the greenhouse gas reduction rate to 7 per cent in 2021 and ultimately 16 per cent in 2030. This higher rate will also facilitate market access for new alternative fuels and create motivation to finally start making the necessary investments."
Steffen Bilger, Parliamentary State Secretary at the Federal Ministry of Transport and Digital Infrastructure, presented the Federal Government's updated mobility and fuel strategy.
"Sustainable biofuels from residues and waste will make an important contribution to climate protection. We have therefore commissioned the German Biomass Research Centre to conduct a pilot project. This will be the first time that the potential of residues and waste has been fully exploited and conversion efficiency to biomethane maximised," State Secretary Bilger underlined.
Bernhard Mattes, President of the German Association of the Automotive Industry, addressed the future role of alternative drives and fuels and associated requirements in connection with forthcoming EU fleet limits. "In order to achieve the ambitious climate targets for the transport sector in an economically and socially acceptable fashion, there must be a level playing field for all CO2-reduction technologies - currently renewable fuels face pronounced regulatory disadvantages. From e-fuels to e-cars - both technologies are indispensable for decarbonising transport. It is not a question of "either/or"; deploying "both" is the right strategy. We need a robust technology mix to achieve the climate targets in the transport sector," the VDA President emphasised.
Wolfgang Langhoff, CEO of BP SE Europe, addressed renewable energies and alternative fuels as important options for reducing greenhouse gases in the transport sector from the perspective of the mineral oil industry: "There needs to be a much greater emphasis on sustainable and innovative biofuels. Above all, we must implement RED II without dogmatically excluding certain options for meeting the ambitious targets. These include in particular coprocessing and green hydrogen - the more options are available, the more effectively and rapidly it will be possible to reduce CO2-emissions."
Prof. Dr.-Ing. Manfred Aigner, German Aerospace Center, presented options for action for an energy turnaround in the transport sector, along with results from the scientific programme flanking the "Energy Turnaround in Transport" research initiative (BEniVer). "Sustainable, alternative fuels can and will make a decisive contribution to rapid reductions in climate impact in all areas of mobility. The research accompanying the "Energy Turnaround in Transport" initiative provides a scientific basis for identifying the optimal fuels and assessing their effects in terms of technical, economic, ecological and social criteria," as Prof. Dr. Aigner underlined.
More than 550 participants from over 30 countries accepted the invitation from five German biofuel industry associations to find out more about market developments, technological innovations and the future of renewable mobility at the international conference "Fuels of the Future" on 21st/22nd January 2019 in Berlin.