Chart of the week (02 2021)
Soybean prices drove oilseed meal prices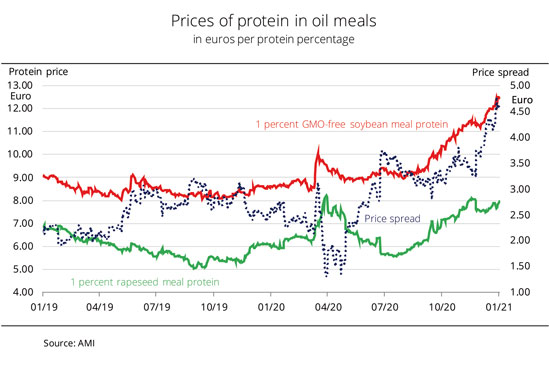 Soybean meal prices in Chicago strengthened considerably over the past several months, leading to a rise in soybean and rapeseed meal prices in the German spot market. At the same time, demand for GMO-free soybean meal was brisk.
Prices for rapeseed meal and especially GMO-free soybean meal increased significantly in the second half of the year 2020. At the beginning of the crop year, in July 2020, GMO-free soybean meal with 48 per cent crude protein still cost EUR 456 per tonne fob Hamburg. Six months later, it was up around EUR 146 per tonne at EUR 602 per tonne. This translates to a price of EUR 4.60 per protein percentage per tonne at the beginning of January 2021 compared to EUR 3.10 at the beginning of July 2020. The rise was sparked by sharp price increases in Chicago driven by concerns over drought-related harvest losses in South America. Also, supply of soybean meal in Argentina waned, fuelling concerns of potential supply bottlenecks in Germany. Supply in Brazil – the main supplier of GMO-free soybean meal – also tightened, because China literally swept the market over the past several months. Buyers were also seeking GMO-free soybean meal in other countries. As a result, the focus shifted to European produce, such as Danubian soy, which was yet another factor that added to the price rise.
Rapeseed meal has increased EUR 53 per tonne to EUR 278 per tonne since the beginning of the crop year. The is the equivalent of EUR 7.93 per percentage of protein per tonne compared to EUR 6.34 at the start of the season. In other words, rapeseed meal gained some competitive advantage against GMO-free soybean meal. The difference in prices for one percentage of protein in the above-mentioned oilseed meals recently amounted to EUR 4.52 per tonne, compared to EUR 2.89 per tonne on 01 July 2020 and EUR 2.59 per tonne a year ago.
The Union zur Förderung von Oel- und Proteinpflanzen (UFOP) has drawn attention to the large number of feeding trials the association has been supporting to establish the feed values for the various animal species. The current price development increases the competitiveness of using rapeseed meal as an alternative feed. This especially applies to cattle farming, because the difference in feed value compared to soybean meal only plays a minor role. Feeding trial results have shown that rapeseed meal produces analogous milk yields. The UFOP has said that for this reason, GMO-free rapeseed meal from EU rapeseed is the preferred source of protein for milk and dairy products that carry the green "GMO-free" label.
In view of the potential of rapeseed and, above all, grain legume crop production, UFOP believes that there is considerable substitution potential which, in the case of grain legumes, could be unlocked by intensifying research efforts. The UFOP has emphasised that the use of domestic sources of protein is a key prerequisite for the EU Commission's "Farm to Fork" strategy and would be part of a deforestation-free value chain based on regional aspects and transparency.
Chart of the week (01 2021)
Global rapeseed area set to increase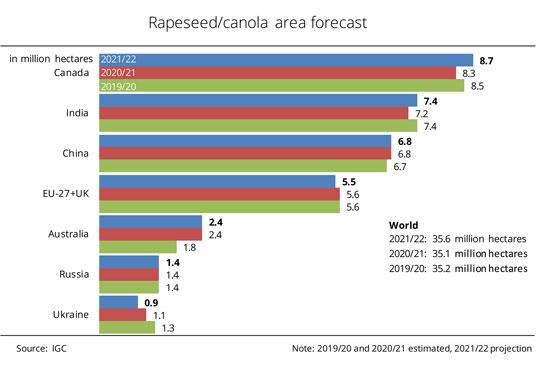 Declines in area in Ukraine and the EU-27 plus UK will presumably be more than offset by area increases in other major rapeseed-producing countries in 2021/22.
According to recent information published by the International Grain Council (IGC), the global area planted to rapeseed is likely to reach 35.6 million hectares in the 2021/22 crop year. This would be a 1.4 per cent increase on the current crop year. Canada is expected to see the biggest rise in area. The country could produce rapeseed on around 8.7 million hectares for the 2021 harvest. This would translate to a 4.6 per cent rise on the year. However, these figures are strongly prognostic, because sowings will not be made until spring 2021. On the other hand, the comparatively low stocks in Canada and high rapeseed prices suggest that the Canadian rapeseed area could be expanded.
Farmers in other important countries where rapeseed is grown will probably also sow more rapeseed in 2020/21. These countries include India with an increase of 2.8 per cent to 7.4 million hectares and Russia with a rise of 1.1 per cent to 1.4 million hectares.
By contrast, according to investigations conducted by Agrarmarkt Informations-Gesellschaft (mbH), the area planted to rapeseed in the EU-27 plus UK will decrease slightly by 0.1 million hectares to 5.5 million hectares. Although Germany and Poland are expected to see an expansion in area, such expansion will not suffice to offset the declines anticipated for France, Southeast Europe and the UK. The IGC expects a sharp decrease of 16.4 per cent to 0.9 million hectares for Ukraine as a result of excessively dry conditions at the time of sowing.
Chart of the week (53 2020)
No rapeseed methyl ester means noticeably less rapeseed meal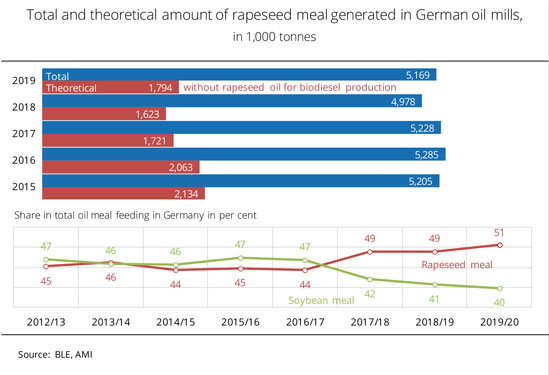 The German and European feed markets benefit significantly from the production of rapeseed-based biodiesel fuels. Rapeseed meal is generated as a joint product of oil production in this value chain, the Union zur Förderung von Oel- und Proteinpflanzen e.V. (UFOP) has explained. GM-free rapeseed meal is the most important source of protein for animal feeding in Germany. In future, extracted rapeseed meal could also play an important role for the human diet, UFOP has underlined, referring to research projects the association supports.
Germany is the main EU country for rapeseed processing, with around 9.0 million tonnes of rapeseed processed in 2019. This production generated just less than 3.8 million tonnes of rapeseed oil and just less than 5.2 million tonnes of rapeseed meal. Because in Europe, rapeseed varieties are exclusively bred without genetic manipulation (GM), and only licensed if bred without GM, the byproduct rapeseed meal is also GM-free. This fact encourages the use of rapeseed meal, especially in dairy feeding. Rapeseed meal can replace soybean meal completely without any loss in milk yield. Today, most milk and dairy products are labelled "without GM". The strong consumer demand for these products therefore supports regional production and processing of rapeseed – which is entirely in the interests of environmental and climate protection. At the same time, it reduces the reliance on imports of GMO soy and GMO soybean meal considerably. UFOP has calculated that 5.2 million tonnes of rapeseed meal are the equivalent of a soybean area of approximately 1.6 million hectares.
Whereas rapeseed meal has become a staple in animal feeding, sales of rapeseed oil are tied to its use in the biofuels market. The association has stated that supply of rapeseed oil by far outpaces the receptiveness of food markets (edible oils, convenience products). If future demand for rapeseed oil were to shrink because biodiesel is no longer counted as a contribution towards reducing greenhouse gas emissions in the transport sector, this would obviously have repercussions on rapeseed processing. In other words, two thirds of today's rapeseed meal production, approximately 3.4 million tonnes, would no longer be available. Imports of GMO soy would be needed to fill this gap. In purely arithmetic terms, this would translate to a soybean area of 1.1 million hectares in the past year. Consequently, sustained rapeseed cultivation in extended crop rotation systems with grain reduces the pressure on land in the countries of origin.
UFOP has contended that this effect is given too little attention in the current debate on the future biofuels policy. Instead, there are iLUC and "food-or-fuel" debates that don't draw on hard facts and from which policymakers should finally free themselves.
UFOP has expressly welcomed the protein plant strategy adopted by the European Union and German government. Rapeseed, by far the most important regional source of protein in the EU, is an absolute must in this strategy, UFOP has stressed. Complemented by grain legumes, rapeseed and sunflowers could ensure a more diversified crop rotation together with flowering plants. Biodiversity and soil fertility could be improved. This is why UFOP has called on policymakers to take a holistic view instead of hastily ruling out necessary land use options. UFOP has also directed this criticism at the Vice President of the EU Commission, Frans Timmermans, whose approach to implementing the Green Deal is leading to even more restrictions and competition-distorting conditions for arable farming. The association has called on the Vice President to take into account the general potential regional added value has for sustained arable farming. According to UFOP, sustainable biofuels from European production should be an integral part of this farming system.
Chart of the week (52 2020)
Share of rapeseed oil-based biodiesel increased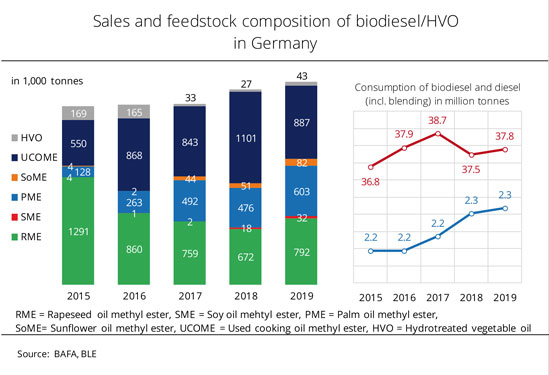 In view of the debate on the use of biofuels from cultivated biomass, the Union zur Förderung von Oel-und Proteinpflanzen e.V. (UFOP) has urged politicians to differentiate between the various types of feedstocks and their origins. The negative image of palm oil should not lead to a situation where the sustained biomass potential available in Germany and the European Union is no longer fully utilised.
The contradiction could not be bigger. On the one hand, the regulatory requirements for biomass crop cultivation in the EU are significantly tightened as a result of the Common Agricultural Policy (CAP) and stricter regulatory requirements for the use of fertilizers and crop protection products. On the other hand, the EU Commission also questions the use of biofuels from biomass, even if the biomass used is produced in the EU. For this reason, the UFOP has welcomed that the Federal Ministry for the Environment's bill to implement the Renewable Energy Directive (RED II) provides for phasing out the use of palm oil as a feedstock, because palm oil is associated with a high risk of generating indirect changes in land use.
At the same time, UFOP has pointed out the role of rapeseed as a pioneer renewable in Germany and Europe. Production and marketing of biodiesel have also been pushed forward with the aim of creating new income prospects for farms. At the same time, soybeans have been partially replaced in the feeding trough. As a consequence of the implementation of the quota on greenhouse gas emission in Germany, the share of rapeseed oil methyl ester in consumption declined from approximately 1.3 million tonnes in 2015 to 0.67 million tonnes in 2018. From UFOP's point of view, it is gratifying that in 2019, the share rose back to approximately 0.8 million tonnes. According to UFOP, the reason was growing European competition for waste oils and fats resulting from the fact that many EU member states introduced double-counting towards renewable energy targets.
Demand for these waste feedstocks also comes from producers of hydrotreated vegetable oil (HVO). The UFOP has pointed out that HVO producers' processing capacity has increased to approximately 3.4 million tonnes. By contrast, soybean oil-based biodiesel only plays a secondary role in Germany, with production amounting to just less than 32,000 tonnes.
Chart of the week (51 2020)
Global soybean supply set to remain tight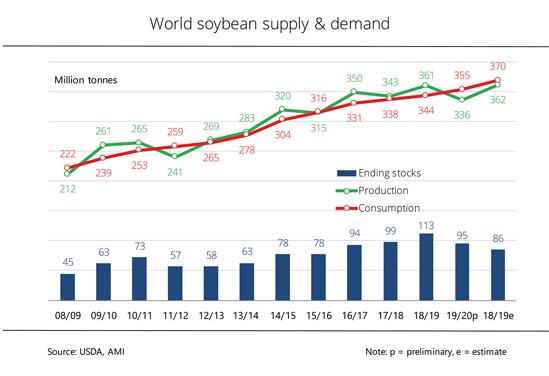 The USDA holds on to its high estimate for Brazilian soybean production in 2020/21. The agency also continues to expect a global record. Nevertheless, these volumes would not cover world consumption. The reason for the decline in stocks is the steady growth in China's import demand for soy.
In the oilseed market, attention is entirely focussed on the upcoming soybean harvest in South America, especially Brazil. Over the past several months, the La Niña weather phenomenon led to drought and delays in plantings. Although rainfall eased the situation, market participants recently remained sceptical about crop expectations. However, in its most recent estimate, the US Department of Agriculture (USDA) continued to expect a bumper crop of 133 million tonnes in Brazil. According to Agrarmarkt Informations-Gesellschaft (mbH), the USDA attributes this record to the recent rains and forecasts of more rain to come in the weeks ahead.
Whereas the outlook for the Brazilian harvest remained unchanged at a high level, expectations for Argentina were lowered and those for Canada raised. The global soybean crop was again seen at a new record high of 362 million tonnes. Expectations for world trade were barely adjusted. The only important thing to note is that Canadian exports were raised from 3.85 million tonnes the previous month to 4.2 million tonnes, based on the raised crop forecast. World ending stocks 2020/21 are expected at 86.6 million tonnes. This translates to a decline of 9.2 million tonnes year on year and would be the lowest level in five years.
The Union zur Förderung von Oel- und Proteinpflanzen (UFOP) has pointed out that this increase in soybean production is not just due to increases in yield, but also to expansions in area. According to information from the German Ministry of Agriculture (BMEL), the area planted with soybeans in the 2020/21 crop year is estimated at 38.3 million hectares for Brazil, 33.6 million hectares for the US and 17.3 million hectares for Argentina. These production regions determine global supply – which has immediate implications for the incomes of European producers. The UFOP has said that it has repeatedly underlined that German, and European, rapeseed is by far the most important domestic and, at the same time, GM-free source of protein. It not only helps to reduce soy imports. What's more, it is grown in crop rotation systems that, in the wake of the reform of the EU's Common Agricultural Policy (CAP), meet stricter environmental standards than production systems in the soybean-exporting countries. UFOP has complained that this ecological "value" is not remunerated. The added value and price for rapeseed are based on market conditions, more specifically prices for soybean meal and, above all, rapeseed oil. The price for rapeseed oil, in turn, is closely linked to the development in sales in the biofuels sector.
UFOP has urged that politicians must finally acknowledge that these interrelations exist in a supply chain that is certified as sustainable. "Farm to Fork" strategies relating to the promotion of national and European legume production will also come to nothing if the above-described interrelations are ignored. Therefore, UFOP has called upon the German government and parliaments to think holistically and gear the biofuels policy to domestic protein crops. The association has urged that the protein generated when processing rapeseed to produce biodiesel should be taken into account in greenhouse gas assessments. This step would go a long way towards developing an adequate and environmentally balanced "cultivated biomass policy".
Please find further Charts of the week in our archive.